Date:
06/09/2009
Place:
Venice - Sunday 6th September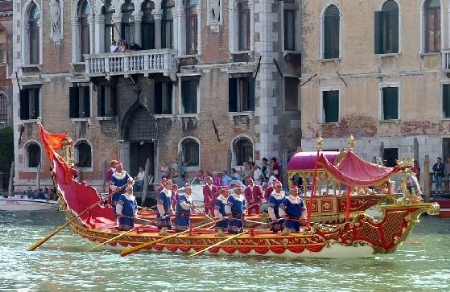 Even now the Regata Storica is one of the most spectacular, picturesque and moving events of Venetian life, capable of both charming the tourists and exciting the locals.

A historical procession commemorates the welcome given to Caterina Cornaro, wife of the King of Cyprus, in 1489 after she renounced her throne in favour of Venice. It is a procession of 16th century style boats, with the famous Bucintoro, the boat representing the Serenissima, at its head.

Then comes the competition. The spectators participate with gusto and shouts of encouragement during the sporting events.

Many of the races are spontaneous; eleven are promoted by the Municipality of Venice in collaboration with the Rowers' Associations and the Co-ordination of the Rowing Clubs with the aim of keeping alive a sporting practice which originates from the very nature of the city. Many of these regattas coincide with traditional festivities and festivals where the race once represented an occasion of not only true popular but also institutional glory.