Date:
21/11/2009
Place:
Trentino Alto Adige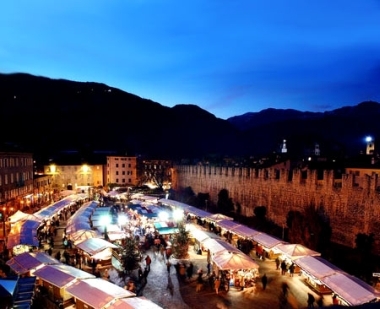 The Christmas Markets in Trentino run from 21st November until 24th December (Levico until 6th January) 2010.

Plunge into the warm atmosphere that Christmas in Trento, Arco and Levico can evoke, it is easy!…You only have to visit one of the Christmas Markets either in Piazza Fiera (Trento) or the historic centre in Arco or the 'Parco Secolari degli Asburgi' in Levico (on until the 6thh January) to discover a magic world of scents, flavours, colours and lights and feel the ancient emotions associated with the anticipation of Christmas.

The aroma that rises from mulled wine glasses, the tinkling of Christmas ornaments, the ancient music, the laugh of friends grouping together around a small Christmas Stall… Christmas Markets in Trentino are all this and more, much more!