CAMPER VALTESSE Rental S.r.l.
Sales and Rent
Via Mazzi 38 24018 Villa d'Almè Bergamo
Phone / Fax +39.035.296386
info@campervaltesse.it
REA
365001
Share capital
€ 10.000,00
fully paid
Registration office BG nr.
03284940164
CAMPER VALTESSE
Date:
01/03/2010
Place:
Switzerland 1st March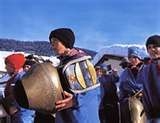 Just across the border in LENZERHEIDE.

Chalandamarz, the festival for local schoolchildren, dates all the way back to when the Romans used to rule Raetia. The custom is celebrated on 1 March as, according to the Roman calendar (Calendae Martii), March is the start of the year. Even today young boys and girls take part in the Chalandamarz procession through the streets and alleys with sleighbells and cowbells combined with colourfully decorated vehicles. The idea behind it is to drive out the evil winter ghosts with spring songs. Girls adorned with colourful paper flowers hand out favetta (Vaz specialities) and flowers to welcome the arrival of spring. During the course of the procession, the schoolchildren collect money from the locals and visitors which is then used to help pay for school trips.

LENZERHEIDE is also a picturesque alpine town that's well worth a visit.