Date:
21/02/2010
Place:
PRATO Tuscany First Sunday following carnival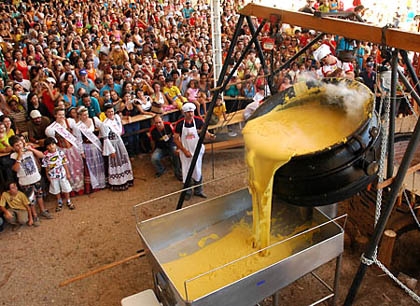 San Quirico di Vernio (278 mt)

After Mercatale di Vernio you reach San Quirico, chief town of the municipality of Vernio at the foot of the ancient Rocca degli Alberti (Alberti Fortress), now restored and open to the public on request. During the 13th century San Quirico was the most important fiefdom of the Alberti family, and then from 1332 of the Bardi family. The despotic power of the feudal lords generated many legends and traditions among the people that had to submit to it, the most important of which is the Festa della Pulendina that takes place the first Sunday in Lent and is attended by large crowds of people. The festival of chestnut meal celebrates what was for centuries a staple in the diet of the population of the upper Bisenzio Valley, with other foods all based on the chestnut. The festival was founded by an ancient, very special association called the "Società della Miseria" (Society of Mercy). Legend has it that the festival draws its origin from the terrible famine that followed the Sack of Prato in the 16th century, after which Count Bardi distributed his stores of chestnut meal to appease the hunger and desperation of the people. From the main square of the town visitors can admire the "Casone", the country home of the Bardi family, now the City Hall, the gallery and oratory of S. Niccolò, a charitable institution founded by Ridolfo de' Bardi.